Aimee Nezhukumatathil's collection of twenty-nine short essays on the natural world, World of Wonders: In Praise of Fireflies, Whale Sharks, and Other Astonishments, is a wonder itself, filled with delights and curiosities. Within this slim volume, each essay matches flora or fauna to an episode in the author's life, making a sort of memoir told with the poet's eloquent turn of phrase and eye for finding beauty and amazement in all things.
These little gems cover childhood, adolescence, courtship, marriage, and motherhood. Some critter or plant sparks a memory or a similarity to something familiar, like comparing her baby son's open-mouthed expression of awe to that of the ribbon eel. Or she feels a kinship with some oddity of nature—as an adolescent, she wanted "to blend in—in my case, with my blonde counterparts," like the potoo bird.
Nezhukumatathil's skill goes beyond observation; she has the ability to recognize and harness the innate essence and gift of her subjects. A New York Times bestseller, World of Wonders is a paean to the rare and amazing living things we share the planet with. Luxuriate in Nezhukumatathil's vivid often whimsical descriptions, where birds are measured not in inches, but in apples, and soil verbalizes. Nezhukumatathil does more than paint poetry, she draws attention, fable-like, to larger matters. A discourse on peacocks becomes a story about racism, the behavior of the touch-me-not plant becomes a rallying cry against nonconsensual touch, an invasion of bonnet macaques reminds us to laugh.
Each essay is accompanied by an alluring, sometimes Quixotic illustration by Fumi Mini Nakamura. For example, the pale pink amphibian called an axolotl smiles sweetly, round eyes rimmed in black, with furry gills fanning out from its head, as it clutches a bouquet of greenery like a beauty pageant winner. Nezhukumatathil learned to smile thin-lipped as an axolotl when people around her made racial microaggressions, because, "The tighter your smile, the tougher you become."
And how could you resist a woman who uses corpse flowers to screen her suitors? Nezhukumatathil regales her dates with details about these giant flowers with a smell she likens to "a used diaper pail left out in the late August sun, after someone has also emptied a tin of sardines and a bottle of blue cheese salad dressing on top and left it there to sit for a day or three" and how she tracks the rare blooms all over the world. Men who balk do not get a second date. Despite the repulsive smell, the corpse flower seems well suited to the human mating ritual. When the flower blooms, its spadix—the thick, fleshy, suggestive spike at its core—rises to near human temperatures to attract pollinators. Nezhukumatathil marvels at "the idea that plants have a temperature, that they can run warm and cold when they need to, that they can send signals to species who will help them, not harm them." Eventually, this putrid plant leads her to find "a man who'd be happy when I bloomed."
"Questions While Searching for Birds with my Half-white Son Aged Six and Nine" begins in a manner akin to Art Linkletter's "Kids Say the Darndest Things". Nezhukumatathil's son asks, "Why do lady cardinals look so sad and boy cardinals look like they are going to a party?" The piece wisely relays only the boy's lines, not the mother's response, and yet we easily follow the dialogue which evolves to topics beyond bird behavior. Mom obviously explains camouflage to the boy who quips, "But isn't it scary for the boy cardinal? He can't camouflage on anything except a red wall." Then adds, "Mommy, you are like a lady cardinal because you are brown."
By keeping herself out of this dialogue, Nezhukumatathil allows the innocent child to question troubling issues in our world that all parents struggle to answer. The boy notes that Mommy has better camouflage than Daddy (who is white), and he has "medium camouflage". He asks why some white people don't like brown people. We can imagine her response from his follow up, "Don't worry, Mommy, you can hide in the forest from those bad people. You have good camouflage." Wondering if his "half and half" camouflage is good enough, he tells his mom about school lockdown drills, arriving at the chilling question plaguing our nation, "Why are there people who will hunt kids?"
Nezhukumatathil possesses a rare ability to truly engage all her senses while exploring nature. She learned the stillness necessary to achieve this from watching birds. "If I wanted to see them, I had to mimic their stillness, to move slow in a world that wishes us brown girls to be fast." Perhaps this idea, that lands like a smooth stone in a lake and ripples with repercussions, is the most important to take from World of Wonders. A reminder to pause, to take a moment to really connect with the natural world, because with true wonder, "it takes a bit of patience, and it takes putting yourself in the right place at the right time. It requires that we be curious enough to forgo our small distractions in order to find the world."
May we never lose our curiosity. May we never stop experiencing wonder.
Purchase the book from the publisher, Milkweed Editions, nonprofit independent publisher whose mission is "to identify, nurture and publish transformative literature, and build an engaged community around it."
Diane Englert is a writer, actor, accessibility consultant and provider. She writes for the website Write or Die Tribe and her work also appears in Ruminate Magazine, From the Depths, What Rough Beast, and We'll Never Have Paris. She wrote libretto for several mini musicals that were all produced. Diane has a BFA in theater from University of Utah and an MBA from Marylhurst University.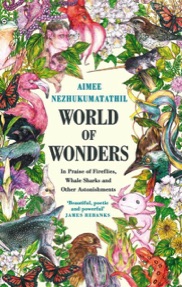 World of Wonders
In Praise of Fireflies, Whale Sharks, and Other Astonishments
by Aimee Nezhukumatathil
Book Review
by Diane Englert