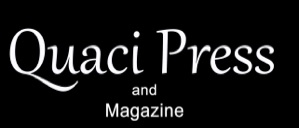 About Us
Quaci Magazine is an online magazine open to everyone. We accept poetry, prose, non-fiction stories, songs and poetry through art and photos.We will also be doing interviews with creative artists of all sorts.
Quaci Press is a small, independent press that publishes the work of both new and award-winning women poets. Quaci Press aims to publish poetry that pushes the edge and speaks the life of women.
We are looking for poems with lots of imagery, beauty and mystery. We want honest poems that speak the minds of those who never had a chance to speak theirs. We are not, however, interested in hate speech, pornography, or endless rants about men and/or politics. Submissions are accepted in English, Spanish and Italian.
Founder and Editor: Nicole Borello
Born in Pittsburgh and raised in the San Francisco Bay Area, Nicole Borello is the author of Fried Fish and Breast Milk, published by dancing girl press. Her work has appeared in Thick With Conviction, Decompression, Rag Queen Periodical and Shot Glass Journal. She is the founder and editor of Quaci Press and Magazine.
Spanish/Italian Submissions: Lorena Borello
Lorena Borello was born and raised in Italy, lived in Spain and in the United States. She completed her Master's degree in Foreign Languages and Cultures at Università degli Studi di Tor Vergata, Roma, in 2010, following her Bachelor Degree in Foreign Languages and literature in 2007. Lorena will be reading the Spanish/Italian submissions.
Artwork/Graphics: Anna Borello
Anna Borello is a graphic artist, photographer and web designer. She completed her Bachelor Degree in Graphic Design at Accademia delle Belle Arti di Roma in 2012 and has a degree in photography. Visit her website at www.alchemistdigital.eu
Book Reviews: Diane Englert
Diane Englert is a writer, actor, accessibility consultant and provider. She writes for the website Write or Die Tribe and her work also appears in Ruminate Magazine, From the Depths, What Rough Beast, and We'll Never Have Paris. She wrote libretto for several mini musicals that were all produced. Diane has a BFA in theater from University of Utah and an MBA from Marylhurst University.