Three Poems by
Raymond Byrnes
Another Season
From a beige plastic Adirondack chair
on just-cut grass out back, in sheltered
solitude she watches tall ridge-top trees
pantomime the heartbeat of a breeze.
Dense crowns of April green sway in
robin-egg sky. Long, thin trunks sustain
a yoga side-stretch, swing abruptly up:
black branches jagged lines across an EKG.
A sudden puff tears away just-unfurled
leaves. Small propeller halves spin like
flocks of buff-brown butterflies startled
by confetti bursting from a cherry tree.
Songbirds rinse, wring, and hang notes high
in morning air as sunlight warms the mottled
backs of her old hands, ready now to pull
a rake in rhythm with the pulse of spring.
Morning Walk
Clear and cold beneath a plate-glass sky
many trees are bare. Frost slowly browns
any leaves that linger. In open woods she
wanders pathways worn from other years.
Pausing, she watches reds and tans chatter
across the forest floor. Last winter was the
first she spent alone; didn't turn the soil in
spring; stared down highways through July.
She comes back to sugar white deeply poured
her crunching boots grooming trail to a slope
where, after many long dark nights ahead
tips of daffodils may be poking from the snow.
Once
Once this deadly scourge is truly over
there are several steps I need to take:
climb again aboard the Silver Line
full of red hats bobbing like a school bus
hop off at Capital South and stroll down
to Half Street where the plastic-bucket
drummers pump up pulses; see some
high-steppers prance, nodding to the beat
funnel slowly through Center Field Gate to
the concrete plaza above the flawless green
watch white batting-practice mortars arc
toward kids pounding gloves at the railing
float on deep-fried aromas toward
Section 114; stop for a crispy bratwurst
concealed beneath sauerkraut and mustard
carry a cold foaming amber lager pint
find row LL-12 to sit and chomp and gulp
and dab at juices sliding down my chin.
Top of the third, wave a five at the peanut man
who always knows he'll throw another strike
and once that first homer clears the wall, join a
roar that cannot cease until our hero tips his cap.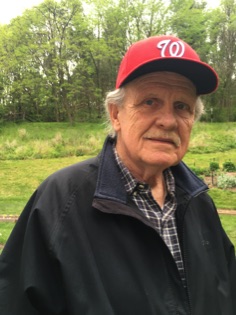 Recent poems by Raymond Byrnes have been read on The Writer's Almanac, featured as Editor's Choice in five journals, and published in Third Wednesday, Shot Glass Journal, Better Than Starbucks, Misfits, Typishly, Split Rock Review, and numerous other journals. He lives in Virginia.