Three Poems by
Mike McDermott
Just Three Shots
She shook her head imperceptibly
as she flipped through the catalog
looking at summer clothes as
the winter outside crystallized
on kitchen windows.  She was
not taken in by the beaches
or boardwalks where models
wore their wares in bright
colors of yellow and red.
She did not study the charts
showing the differences among
high-rise, mid-rise, bikini,
or just how relaxed the fit
could be during a long lazy day.
No, what she noticed was
an old familiar face, a model
she had seen over the years,
even as a cover girl on occasion,
now she was deep inside the book,
in just three shots, the polo
and tee spread, just three
shots.  Yes, she noticed the new wrinkle.
Hanging Laundry
You're hanging the underwear wrong.
            Kathleen Norris, The Cloister Walk
Laundry.  Hanging clothes.
A mystery to most men.
A memory to most women.
A secret ritual, hidden
by necessity, offered
with a smile, "Sure,
you can help hang
some clothes on the line."
Knowing full well
the ignorance of how
to hang underwear.
Remembering Them of Another Time
She remembered them of another time
sitting on the front porch snapping beans,
or at the kitchen table talking over coffee,
or cleaning the house, head in a
closet, bent over with large backside,
sticking out of the open door, draped
with one of their dresses, belted, short
sleeved, down to their knees, just
hiding stockings rolled above
held precariously but somehow held
with old worn out elastic bands.
She remembered them of another time
and thought of their clucking
judgments never stated, just a look
across a bowl, an eye outside a cup
raised to catch the last dregs,
a sure knowing of what's right and wrong.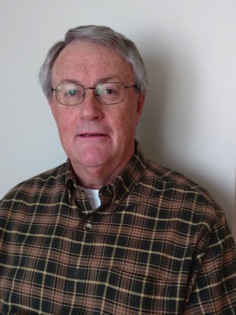 Mike McDermott has a chapbook Reluctant Care, poems in Bourgeon (online) phoebe, Minimus, and others, and an MFA from George Mason University.