Notes on an Execution is Danya Kukafka's follow-up novel to her bestseller Girl in Snow. I devoured this masterful novel that examines the mystique of the serial killer and the unacknowledged women lost and left behind. Even knowing "whodunnit" from the start, the suspenseful novel keeps readers riveted as they follow the killer and the detective obsessed with proving his guilt.
In the opening Note From the Author, Kukafka says she was baffled by the "uniquely American" obsession and glamorization of serial killers. (Although I would argue that the British perpetuate the mythos of their serial killers as avidly, from the Daddy of them all, Jack the Ripper, to the Yorkshire Ripper, Peter Sutcliffe, etc.) "Average men become interesting when they start hurting women." Kukafka's novel aims to flip the narrative and explore "what we lose when women die." She gives voice to the victims, mothers, and sisters impacted by the male murderers who always "dominate the headlines." And yet, over one-third of the book is narrated by the male murderer, proving that even in a book whose aim is to focus on the women, the alluring tug of the serial killer cannot be denied.
Each section follows a different character. The women's stories are all third person (to avoid spoilers, I intentionally refrain from referencing most of their names.) The convicted man speaks in second person, narrating his actions as "you." Ansel Packer is on death row, counting the hours until his scheduled execution. He fits the profile we are accustomed to: smart, oddly attractive and charismatic, a sociopath. He studied philosophy and latches onto Locke's belief that memory is what makes us individual. Ansel believes there is no good or evil, only memory and choice. "We are created by what has happened to us, combined with who we choose to be." His first four years, as told by a loving teenaged mother, are overshadowed by a controlling, abusive father who withholds food and isolates them both from the outside world. His mother makes a desperate choice to ensure Ansel and her newborn will live, but Ansel remembers nothing of his father, only abandonment and the screams of his starving infant brother. This horrible memory haunts him and his choices are driven by the need to exorcise the ghosts.
The gradual unraveling of Ansel's path to murder is meticulously, mesmerizingly meted out. Equally engaging is the narrative of Saffy. We meet her at age eleven, living in the same foster home as Ansel. She is drawn to him, as are all the tween girls. When Saffy discovers Ansel killing small animals, he threaten her with a gruesome prank to ensure that she won't tattle. In the same pattern as his unremembered abusive father, Ansel tries to make it up to Saffy with a gift and a hug. Reluctant and fearful, she succumbs to his touch and feels a giddy warmth. "For the first time, Saffy hated herself. She hated herself with a profound sense of awareness, less like a girl and more like a woman—with fury, desperation, shame. It was the sort of hatred that lurked in the shallows, gnashing its jaws, the ugliest thing about being herself. She reached, cradling, and welcomed it in."
Saffy grows up to become a police detective. After solving her first case, she experiences a "dizzying rush of surety, followed by a gnawing feral fear. A fear that felt oddly addictive. There was something alive in Saffy's cells, feeding hungry on such doubt—it was sick, tainted, and it had grown like a tree, curious as it twisted upward. It had driven her to the edge of ruin." When Ansel's name comes up in the investigation of several missing girls, Saffy knows he is guilty. Saffy and Ansel shift in their roles of hunter and hunted, both driven by a hunger they cannot sate, neither at peace in the world. The exploration of the dark, visceral motivations of killer and detective are probing and thrilling. You can't and don't want to get off Kukafka's rollercoaster ride—all you can do is throw your hands in the air and scream, then wish the ride hadn't ended so soon.
Kukafka's brilliant facility for describing emotions and feelings conveys universal experiences in fresh and insightful ways. The sister of one of the victims describes grief as a "portal to nothing. Grief was a walk so long (she) forgot her own legs. It was a shock of blinding sun. A burst of remembering: sandals on pavement, a sleepy back seat, nails painted on the bathroom floor. Grief was a loneliness that felt like a planet." Narratives told by the other women acknowledge that trauma doesn't simply dissipate; it continues to haunt, sometimes eternally. There may be ups, but down is always lurking ready to strike.
Kukafka differentiates between serial killers and other incarcerated men as she addresses our flawed justice system. When friends of the victims gather at a vigil decades after their deaths, Saffy laments that these girls "are relevant because of Ansel and the fascination the world has for men like him." She realizes that "justice does not feel like compensation. It does not even feel like satisfaction." As she pictures the lethal injection, she thinks how unnecessary and pointless it is: "The system has failed them all." The victim's sister attends the execution, an orchestrated event featuring a description of the offender's crime (triggering her trauma and anger) and an overview of the procedure. She marvels that this event, ostensibly for the benefit of the victim's families, feels backward, like a gift to the murderer. He gets the attention, brought back into the media spotlight, and gains martyr status. She feels guilty and complicit being there, and thinks about the many "Black men . . . shot by police as they're stopped for broken taillights, hauled in for carrying a pocketful of weed," while Ansel is glorified with the "title of serial killer." His name will live on in books, documentaries, and websites. Women will continue to be titillated.
The novel ends with an elegiac revery imaging an "Elsewhere" in which the victims lived, had families and careers and belonged to their communities. The reader is left with the same sadness and question as the people left behind: "where would they be now?"
Purchase the book here. https://bookshop.org/books/notes-on-an-execution/9780063052734
Diane Englert is a writer, actor, accessibility consultant and provider. She writes for the website Write or Die Tribe and her work also appears in Ruminate Magazine, From the Depths, What Rough Beast, and We'll Never Have Paris. She wrote libretto for several mini musicals that were all produced. Diane has a BFA in theater from University of Utah and an MBA from Marylhurst University.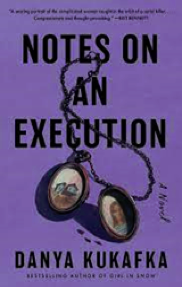 Notes on an Execution
by Danya Kukafka
A Riveting Exploration of a Serial Killer and
the Women in his Life
Book Review by Diane Englert