Loaners is a memoir-cum-essay conversation between the two authors, Ben Hodgson and Laura Moulton. Laura is the founder of Street Books, a mobile library bringing books to people living outdoors in downtown Portland, Oregon. Ben was one of her patrons, and still holds the record for most books read in a year. Ben describes Laura as "a lighthouse because you save people" and eventually, he joins Laura in her mission.
Readers meet Laura at the beginning of her experiment and Ben at the beginning of his three and half years living outdoors, after losing his job and his trailer home. Laura works around the public library system, which requires an address and phone number to get a library card. Her model is simple: ride a bike outfitted with a box to hold books to the same location, at the same time each week. Check out books to people for free, using the old-school library pocket and a card that patrons sign and leave with her. The first summer trial run started slowly, as Laura needed to approach people gently and gain their trust. Once she did, the requests for specific types of books poured in—philosophy, history, poetry. Laura gets to know her readers—their tastes and troubles, their senses of humor and stories.
The two narratives converge when Laura and Ben meet at the latter's first visit to the mobile street library. Ben, looking like a disheveled professor, admonishes Laura for not carrying P.G. Wodehouse. While browsing, he admits that, "I wouldn't know whether to enlighten myself or just get something to kill the afternoon." The narrative focuses on the evolution of the Street Books library concurrent with Laura and Ben's growing friendship.
Stories and musings alternate between Ben and Laura, at times almost becoming a dialogue in which one vignette is enhanced, or humorously refuted, by the other. These conversations are often provoked by Ben's witty irreverence and sometimes he responds in limericks. The segments leap from chuckle-inducing whimsy to sobering insights, from truly scary encounters to examples of heart-warming generosity of spirit. The short pieces may be inconsistent in style and focus, but they are always engaging and enlightening.
Loaners nudges the reader with non-judgmental, non-didactic reminders about humanity. These range from the obvious—don't judge a person (or a book) by its cover, to the stark and oft ignored—the majority of the population is just one disaster away from living outdoors.
One of Ben's stories about houselessness is a reminder that everyone craves beauty and a place to call "home." Ben sleeps in the doorway of an out-of-business Chinese restaurant and begins cleaning up his block. He dumpster dives for cleaning supplies and lugs water from a public restroom to scrub the sidewalk. He weeds and clears the cigarette butts, trash, and used needles away from the planters. When Ben finds an Impressionist art book in a free box, he mounts the Renoir and Degas reproductions on the boarded up windows of the defunct restaurant with duct tape frames. The Loaners book cover depicts his handiwork. Delighted passersby photograph Ben's free gallery on his neat block—until the organization for a clean and safe downtown tells him to cease and desist, confiscates his cleaning supplies, and tears down the pictures, leaving behind strips of duct tape.
Loaners reminds us that small acts of kindness go a long way. Reflecting on a moment when a stranger crossed the street to hand him three dollars, Ben writes, "Funny thing is, it was not the least bit humiliating. But it was humbling. There's a difference." Another time he goes to a Korean grocery to buy cigarettes. The proprietor gives him a free cup of coffee, because "it's cold outside."
Over time the Street Books core of volunteers grows. When screening potential librarians, Laura looked for a quality we would all be wise to cultivate, a "willingness to leave (our) comfort zones, and see the ways people were human, no matter their circumstance. Maybe these encounters could shift our thinking on subjects we thought we knew the answers to." This statement reflects Ben's rumination on the experience of moving off the streets:
"It was such a rude shock getting exiled to the street. Not surprising, then, that moving back inside would also take some getting used to, and there are a few who mismanage the transition and end up back outside. Even more common are those whose new life of leisure allows them the time to drink themselves to death."
It's another reminder—finding housing is not the final solution. People still need support and a purpose. Ben gets a job and finds that "Having a regular routine goes a long way towards bringing a sense of order to a life in disarray."
Laura shops local bookstores to purchase requested titles. On one such trip, a bookseller tells Laura she is their hero for doing this work. Laura reflects, "if anybody was heroic, it was the person who'd been sleeping on cardboard on the sidewalk for months and yet still managed to stand up, shake off the stiffness, and come talk to me about Faulkner." Despite the disparity between street librarians and patrons, "for the length of a conversation about books on a street corner, these differences fell away."
Laura cautions her volunteers and staff, "don't assume anything about anyone" and "respect your patrons and their desire to read." She recalls a customer who eschewed a book by Nietzsche, "not because he didn't want to read Nietzsche, but because it was the wrong translation." Or the man who asked for a Shakespeare book because Shakespeare is "the best junk you can get." She reminds us that the biggest contributors to being houseless are "wealth inequality and structural racism" so everyone should know what is happening in their own city or town.
Since Loaners is not a biography, the accelerated timeline skips details of both Ben and Laura's journeys, and a few times the reader wonders how our narrators arrived at a certain place in their lives. Later sections turn epistolary with reprinted emails and letters. Ben is reunited with his daughter after twelve years and finally meets his two grandchildren. These private meetings are not enumerated; instead Ben shares a tender, moving letter written to his daughter expressing his newfound peace and calm.
Sadly, the number of people experiencing houselessness across the country has drastically increased. Fortunately, Laura and Ben, the staff and volunteers of the now nonprofit Street Books are still bringing books to the people. And you can too—there's a guide on "How To Start a Street Library" included.
Learn more about Street Books here.
Purchase Ben and Laura's book here.
Diane Englert is a writer, actor, accessibility consultant and provider. She writes for the website Write or Die Tribe and her work also appears in Ruminate Magazine, From the Depths, What Rough Beast, and We'll Never Have Paris. She wrote libretto for several mini musicals that were all produced. Diane has a BFA in theater from University of Utah and an MBA from Marylhurst University.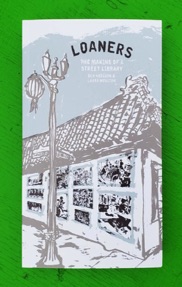 Loaners—The Making
of a Street Library
by Ben Hodgson
and Laura Moulton
A True Story Reminder:
Books Save Lives
Book Review
by Diane Englert