An Interview with
Che Zuro
By Nicole Borello-Editor, Quaci Press and Magazine
NB: Tell us about your band The Photos.
CZ: From going to concerts for years before even moving to Los Angeles, I befriended a few people in the music business and one of them, knowing I was no longer in the Orchids, called me to see if I would be interested in auditioning for a New Wave Pop band in England, The Photos, who had just had their female singer (Wendy Wu) leave. Flying to England and then trekking to the Cotswolds where the band was based, I auditioned and got the job, and then returned to L.A. to pack up and get my things in order and went back. Even though we did record an album's worth of tunes, the record company decided to keep the singer on their label as a solo artist rather than the band with a new singer, and the management wasn't able to sustain us financially. So I had to leave the band and the country since I couldn't just go out and get a job. We did have offers to play live but without the finances to be able to pay rent and sustain myself, there was no way I could stay. Loved that band although it was tough just being a singer. (Not that that is a bad thing, just difficult for me without having something to do with my hands! HA!) The guys actually went on being a band without a lead singer for a while, and then they split up. Some of them still play music!
NB: Tell us about your band Puss N Boots.
CZ: Jan, the lead singer from the Orchids, was working at one of the Hollywood studios with another girl and they decided to put this heavy metal type band together, without the other girl really even knowing how to play! She asked me to join, then we got Laurie Bell, also from the Orchids to join, and when Karina really could not play any gigs or record with us, we asked our drummer friend Tami if she could play bass and she said YES! (Many musicians play multiple instruments, so we were lucky and she was a very good bassist!) The band was fun but after a while, while also working with Phil Seymour (Dwight Twilley Bandas well as an artist in his own right) and working on recording my own material, I left the band. We did get a lot of press and some European airplay with a recording that we sent to everyone on TAPE. Yes, back in those days! Pretty much the beginning of the DIY era! The band went through many personnel changes and then finally broke up.
NB: Your most recent CD, Rivers and Rain, is a collection of songs mostly about Pennsylvania and your Pennsylvania roots. Can you tell us how this idea came about?
CZ: It wasn't something that I actually thought about, but when my friend Sandy passed away, I was inspired to write a song about her, but the song didn't come to me right away. Instead, I wrote "Back To Ohio," about the group of gals from the Pennsylvania/Ohio state line area who all moved to Hollywood and then one by one moved back home. That song just came to me like a flash flood, and the song about Sandy, "Her Music Lives On," ended up taking more than a year to really come together. In the meantime, I was also summoned by the songwriting Gods to write "Pennsylvania," about the area where I grew up, and then "Allegheny Angel," inspired by the huge angel monuments and tombstones in Allegheny Cemetery that I would pass when back home and playing at Hambone's in Lawrenceville. Suddenly I had a start to a record that would be mostly about where I grew up and how it formed me to what I am today.
NB: Has your Pennsylvania roots kept you grounded in the crazy music business?
CZ: Oh yeah! Fortunately, my parents, aka my "producers," were very supportive of my choice of career, even so much as coming to every gig they could make, visiting me in Los Angeles and also coming to shows when I would be on tour with bands back east. They never told me to get a "real job" or said that they were disappointed in things that I was doing, although I would imagine their fear about what would happen to me in those early days of the Wild West Hollywood rock and roll era! My Dad, until the day he died, would come on stage after my local PA shows and start helping me tear down and wrap my chords. My Mom and Dad, being a two-car family, were probably the first real "roadies" for my first bands. I am still connected to everything and everyone Pennsylvania. I am a true Yinzer!
NB: Can you tell us about your all-girl band The Orchids and what experiences you drew from that?
CZ: What another fantastic opportunity for me! Backstage Pass was waning with only Spock and me still left in the band, so when I got the call that Kim Fowley's new all-girl band, The Orchids, was looking for a lead guitar player, I thought "Why not try!?" I went in not knowing that the gal I was auditioning was actually going to BE there, not knowing that she was going to be getting canned, it was a difficult audition. I used her amp, but my guitar, learned a couple of songs, jammed a little, sang a little back up, and was hired on the spot. And Sandy Fury was fired on the spot. After finding this out, I was really not happy about that because women, especially women MUSICIANS, should stick together and prop each other up. And this was a real dis to her. She hated me for years, although it was not MY fault that it happened this way, but we have since become friends and stay in touch.
Working with Kim Fowley was difficult but a real learning experience. Some gals who worked with him HATE him still and others thank him for all of the knowledge and opportunities he gave us. I am with the latter group. He encouraged me (us) to write songs, work hard, come up with great ideas, promote gigs, and more, and I did all of that and more. He threw things at us— like 10 sheets of lyrics and said bring new songs into practice tomorrow, or literally threw a coffee table that was covered with magazines, books, ashtrays and drinks, across the room when he was angry, and we either learned from that or became cranky and butt hurt at how he hurt our feelings. I was in the former group regarding that. He introduced me to so many people that actually were helpful in my future music life in L.A., like Peter Paterno, the high-powered attorney whose gopher was John John Kennedy, Ray Manzarek of the Doors, Danny Goldberg and Paul Fishkin from Modern Records, Doug Weston from the Troubadour, and so many more. We got to know record company industry people, rock stars from all different genres, and songwriters that he put us together with to get more and more material for the band and for other projects. I felt like he really respected me, as does The Orchids drummer, Laurie Bell, but others thought he was an animal and just hated him.
Being the guitar player and one of the major songwriters of The Orchids, despite that we had only one album on MCA, which failed mainly because they only pressed 20,000, and most stores couldn't even order more. It was really beneficial for me in the music business as well as being a lot of fun and my first real professional band (with a big record deal) as a 20-something.
I could go on and on….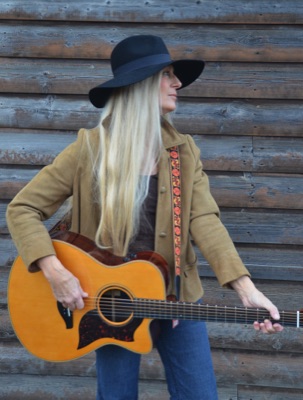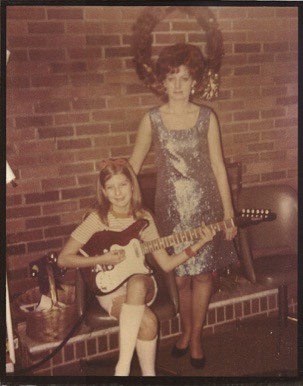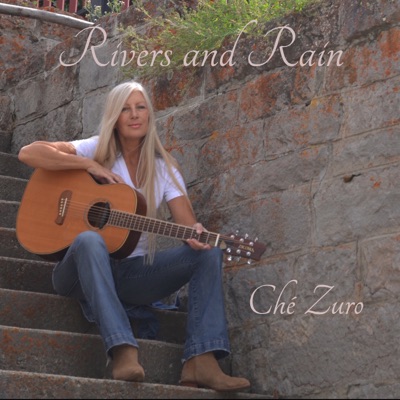 NB: What was the music scene like in Pittsburgh in the 70s?
CZ: We were lucky to have been able to see so many international groups that would stop and play in Pittsburgh venues like the Civic Arena and the Syria Mosque, and having friends who worked for National Record Mart allowed our group of music fanatics to see so many of those groups. When we were of driving age and some groups stopped coming to Pittsburgh, we would travel to Cleveland, Columbus, and other close cities where those bands would play. The clubs were mainly 21 and over, so one of our friends was able to snag some fake IDs so we could go and see local bands, but the best one for me personally was The White Elephant/Zodiac/2001 club in the White Oak section of McKeesport that brought in local area bands as well as groups who were touring smaller venues. Some of the groups I loved seeing, at the large venues, were the original Led Zeppelin (front row, bruises on my ribs from being pushed against the security bar), Todd Rundgren (as the 3rd opening act at a show that I now can't even remember who the headliner was), Bad Company, and so many more.
Bands I saw at the smaller venues were Bruce Springsteen, ACDC, The Ramones, Fleetwood Mac (with the newly added Stevie Nicks and Lindsay Buckingham who were well known in Pittsburgh for their Buckingham Nicks album), Roxy Music, David Bowie and more.
Some of the best local bands that I remember seeing were: Coconut, Freeport, RMA (which had guys from both of those bands), Gravel (who are still playing around the area), The Vogues (yup), Louie's Dog (whose drummer is now the Principal Percussionist of the Houston Symphony), Sweet Lightening, Crack The Sky, Michael Stanley Band, Dead Boys, OMG so MANY!
NB: What artist/band inspired you the most when you were growing up?
CZ: I loved pretty much all kinds of music, thanks to my parents being music buffs, and loved all of the popular music when I was really young. My Mom told me that I dressed up one time, and put on literally all of her jewelry, wearing a pair of high heels that I couldn't walk in, and makeup that was ridiculous (I was 5 or so) and came out singing Lou Christie's (Pittsburgh artist) "The Gypsy Cried." Not my debut in entertainment, but maybe as a "singer." Besides everything soul, including Motown and all of the Philadelphia sound, plus the pop stuff, then into rock and roll when the teenage years came upon me, I found myself influenced mostly by the Beatles, The Rolling Stones (the reason I started playing guitar is all Keith Richard's fault, and when I wanted to be like him, my parents did not say "no!"), Todd Rundgren, David Bowie, and the soulful sounds of Motown, especially the songs that had amazing harmonies. Also LOVED Zeppelin, mostly because of their mix of old folk with heavy rock, and the guitar playing of Jimmy Page, which has been a huge influence for me writing songs with alt tunings.
Obviously not many women who played rock and roll that I even knew about back then. I was not into any of the women singers like Grace Slick, who was great but not my cup of tea, or even Janice Joplin, I liked the male singers better. I never liked most of the folky chicks, like Joni Mitchell, Joan Baez, Linda Ronstadt, Anne Murray, etc. Yuck. (Sorry). Please don't ever request a Joni Mitchell song at my gig, because I might have to have you escorted out of the venue.
I did like Heart when they came out, and loved that Nancy played guitar, and loved Suzi Quatro, Birtha, and Fanny, but they were not easily accessible! I apologize that I couldn't give you just one!
NB: The music scene has always been male dominated, what was it like for a female guitar player in LA's music scene in the 70s and 80s?
CZ: Actually, I moved there to work in the fashion industry and ended up joining a band within two months of arriving in Hollywood. Because it was the middle of the punk scene there, a gazillion girls seemed to be playing in bands. A lot were singers, but more and more you would see female musicians which was exciting for me, because I was always the only girl that played an electric guitar, let alone just guitar. A lot of the girls were not really great musicians, but at the same time it was wonderful for me to see I had some sisters around that were trying to do something with music that they loved. As the 80s progressed, I saw more and more girls who were younger who had been influenced by the Eddie Van Halens as well as some of the old school guitar players and having places like Musicians Institute available for both genders was fantastic for the learning experience for young players. When I look now I see so many female guitar players out there who are incredible, have their own style, are writing songs and have great bands.
Of course, back then with fewer females who could actually read and play music, the ones who were schooled were much more respected than the ones who were trying to learn while on stage at a gig. When I saw the Go-Go's for the first time I was not impressed. They had a bass player who was not really great, but their drummer rocked (Gina) and Charlotte, whom I had known from her punk band The Eyes (who had asked me back then if I wanted to be a part of her new all-girl band and I said no, but thank you for asking me…) were VERY good musicians, and I think that brought the rest of the band up to a better caliber. Also adding Kathy Valentine, who is a fantastic guitar player, on bass was a good move for them. And the songs that they write were all really fun and easy to sing along with right away. They had that "IT" whatever "IT" is!
It was fun for me to be a part of that culture back then. One time I went to have lunch with a friend who was an instructor at MI (Musicians Institute), and saw two young rock and roll boys in the hallway, smiled, and then heard them whispering, "That's Che Zuro from the Orchids!" Which made me giggle! I feel like I had a lot of respect in the scene both in the late 70s and all through the 80s while playing in various bands.
NB: Can you tell us about your first band Backstage Pass and how that came together?
CZ: Because I was a music nut and had subscriptions to a lot of fanzines from L.A. and NYC, I knew a lot of the "local" bands, some that were starting to make records or get deals or tour overseas, etc. My first night in L.A., I went to the Starwood to see the band Horslips, whom I actually met while en route TO California while visiting my friend Margie in Chicago. They put me on their VIP list at the club, which allowed me into the upstairs VIP section, where I first saw two girls that I recognized from the fanzine Back Door Man, which was a Los Angeles based rag, and went up to say HI and that I recognized them from the magazine. It was Spock and Genny from Backstage Pass, and at first they were like, "Yes, that's us." And THEN they could not believe that I just moved into town (from Florida) and recognized them from photos in the fanzine. We got to talking, I mentioned I was a guitar player too (they played bass and guitar respectively) and we exchanged info. They invited me to come and see them play the following month at the Whisky opening for Elvis Costello, so I planned to do that!
At the gig I noticed that they had a guy playing drums, so not REALLY an all-girl band, and that they were a little rough around the edges, but wow, they were playing at the Whisky opening for Elvis Costello!!! They had, besides drums, bass and guitar, two keyboard players, which I found slightly odd for the times. Hardly anyone had even one keyboard player in the local punk scene. A few days later, they called me to see if I would be interested in auditioning for the band, and I said YES! What a great opportunity to get started in the music biz out there! When I went over to one of the girls' apartments for the audition, they were all there (except the drummer), and told me all about the band and what they were doing, what they wanted to do, etc. Then Genny took me into the bedroom to teach me one of their songs. Honestly, I think they all thought that I didn't really play, because when she showed me that 3 chord tune and it was so easy, and I said, "OK, got that, show me another one," we ended up going over three songs in about 10-15 minutes. Then we came out and Genny told them "She can REALLY play!" So, I was in.
My first gig was opening for Devo at Mabuhay Gardens in San Francisco. And today my band Wildflower Moon, here in Utah, has the same drummer from Backstage Pass, the only guy in that band, Rod Mitchell. My new band is also an "all-girl band" with Rod's wife Iffer and myself, and Rod on drums! Ha!
Che and her mother (circa 1967)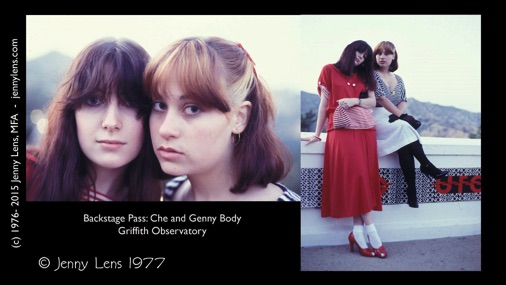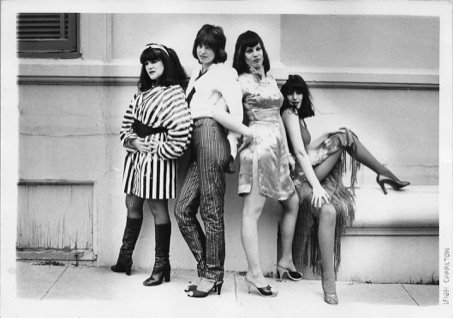 L-R Marina Del Rey, Holly Beth Vincent, Spock, Che Zuro
Photo by Leigh Charlton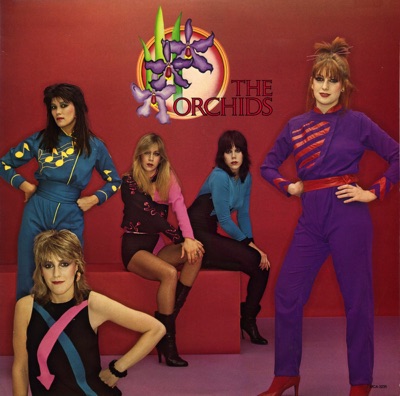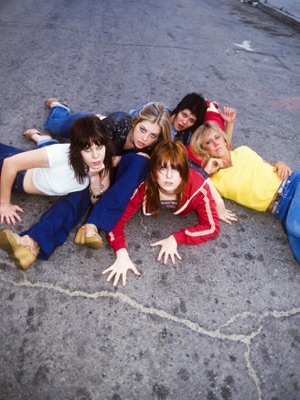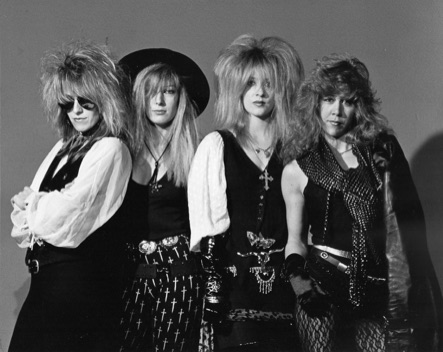 L-R Jan King, Che Zuro, Karina Dahl, Laurie Bell
Photo by Avery Crounse
NB: Tell us about your band Population 5 and where everyone in that band ended up.
CZ: Three of us played in Josie Cotton's band: JB Frank, Prescott Niles (from the Knack!) and me! JB, a prolific songwriter actually got a gig recording some of Diane Warren's tunes for her to shop to artists to cover, and he invited Prescott and myself, Danny Stag who was in The Industrials (another Kim Fowley band) and from Pittsburgh, and our drummer friend Matt Sorum. The recording was so much fun, the vocal blend with JB, Danny and myself handling most of them on these recordings and just the vibe of how we all jelled together gave us the idea to put a band together, since Josie was not working as much at that point. We became Population 5, dressed like it was the end of the world, played showcases for record companies and publishing companies, were one of the favorite bands at a nightclub in the valley called Sasch, and struggled to "make it" for more than a year, then just gave up. Some of the guys continued to play together. I think there was a Population 4 out there, but then JB and Danny put Kingdom Come together, Prescott was doing session work, Matt played with a whole bunch of local bands including Tori Amos, and I moved to New York for a short while. Even to this day people call us a superstar band and WHY are we not all famous? Except that Prescott was already famous with The Knack and their huge hit, My Sharona, and since then, JB and Danny did really well with Kingdom Come, and Matt joined The Cult and then was asked to join Guns N' Roses, and still is working hard in the music industry! We are all still playing music, and are all in touch!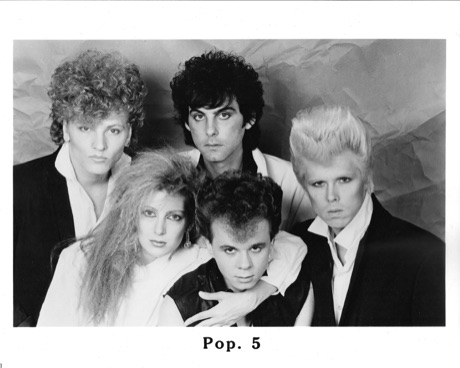 NB: Tell us about what it was like touring with Berlin and how that came about.
CZ: I tried getting out of the music business twice, working on films, doing costumes and props, and both times got calls for an audition or a writing project or a recording opportunity, so I actually auditioned for Berlin as a backup singer, because I couldn't stay away from music. At first, I did not get the job, but got the call as I was literally walking out the door ready to fly back to Arkansas where I had been working on a film, to wrap things up, redoing some scenes and packing up the costume trailer for storage. The couple of weeks in Arkansas I learned the songs, then flew in to where they were already on tour, and joined them for a few weeks. The experience was interesting to say the least, but not something that I would go back and do again. If I had a do over, I would have said NO thank you.
NB: What was it like touring with Charlie Sexton and how did you land that gig?
CZ: They found me through their drummer Gary Ferguson, whom I played with briefly in Josie Cotton's band. They had been looking for a keyboard player who could sing and looked like she was in the band already, and everyone they had auditioned just didn't cut all three things—until I showed up. I auditioned on a keyboard that had none of the right sounds, played 3 tunes with them, sang my ass off, and was asked when I could start— which was the next day. It was SUPER fun and probably one of the best bands I have ever played in. Charlie and I had a great rapport on stage and off, our voices blending so well, and just had so much fun. Touring was difficult at times, being the only girl on a tour bus filled with stinky guys, but all in all it was a great experience. One of the bass players, Mark Harris, has been playing with the band Venice for years now. Gary Ferguson still plays, and Charlie has been working with Bob Dylan now for decades.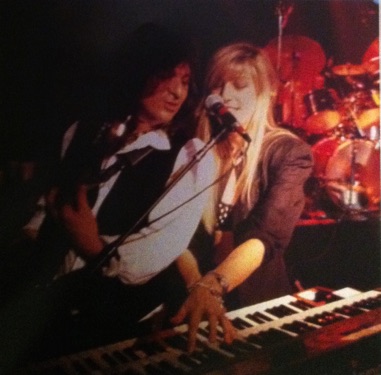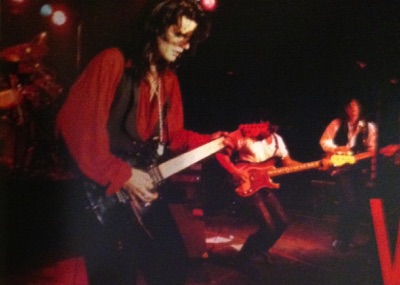 On tour with Charlie Sexton (1987)
NB: What was it like working with Carmine Appice?
CZ: I met Carmine through my boyfriend (at the time) Danny Johnson, who played with Carmine's younger brother in Danny's band Axis and then with Derringer, one of Rick Derringer's cool line ups. Because we all hung around together, and I was also in the Orchids, writing, recording and playing out live, when Carmine needed backup vocals on his solo record, he asked if I could do that, and of course I agreed. (Our credit on the album is "The Rockers" because it was Danny, Jay Davis who was then playing with Danny and then the two of them joined Rod Stewart's band, and other various rock and roll folks from the L.A. scene!) THEN when they were figuring out the album cover, doing crazy photographs of Carmine with a bunch of women, I was in on that too. The result was his debut album called "Carmine Appice!"
NB: What was the L.A. punk scene like in the 70's and 80's and how do you think women played a role in that particular scene?
CZ: There were so many girls in punk bands when I first got to L.A. in October 1977! This was thrilling to see! The ones I specifically remember seeing (mostly L.A. and San Francisco bands) and thinking, YES about, were The Eyes with Charlotte Caffey, who went on to form the Go-Go's, The Alley Cats with Diane Chai on bass, Needles and Pins with Denny Ward (and also I think Natalie Pace at one time who is now a financial guru), Belinda Carlisle in the Germs for a minute, Jennifer Miro of San Francisco's The Nuns (who also featured Alejandro Escovedo!), and the newly relocated Detroit rock band, The Dogs with Mary Kay on bass. Of course, the scene also included women who were managing bands, photographing them (like Jenny Lens and Donna Santisi) and gals who were getting A&R jobs at the record companies in town. Plus, fans of music! That was an amazing time period!
NB: You have written songs for films and TV. What are some of the songs you've written and which one was your favorite?
CZ: My song, "Crystal Sea" is in Gypsy 83, first being played and sung by John Doe (from X) and actress Sarah Rue, and then my version later in the film when Rue's character puts on the album her parents had made. The film was not great but it was super fun to hear my tune in it twice! I also had a song that was a demo just done when the director of "Critters" called me knowing I was a musician, to see if I had any songs that they could add to the film, although not the soundtrack, since that was already done. I ran a tape over to him and he put it in the part where the sister goes on a date with her boyfriend and just goes into the family barn to make out with him, and the kid (Scott Grimes) goes upstairs to his room and turns on his tape player, where "No Turning Back" is playing. THAT was really fun to see when we had the screening for the cast and crew! I was a part of the wardrobe team and then helped put together the band for the alien coming down to earth scene where they tune into a rock video on TV!
NB: You got to take part in the prom scene in the movie "Valley Girl." What was that experience like and did you ever think it would become an 80s cult classic?
CZ: When I joined Josie Cotton and the Party Crashers, we had more than just gigs booked. We ended up getting booked for some TV shows and films, which was so much fun. One of those films was "Valley Girl," where Josie had two songs on the soundtrack to be used during the prom scenes, so there we were on the set of the film for a couple of days doing our lip syncing best for the camera! What a fun experience for all of us, and who knew that it would become such the movie of the 80s! Just recently when one of the cable channels was having an all-80s film week, they did a trailer of the film that included my photo from the prom scene! That was crazy to see!!!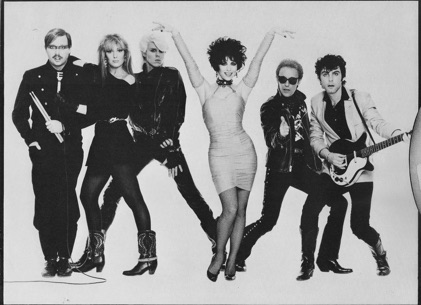 L-R Dony Wynn, Che Zuro, Johnny B Frank, Josie Cotton, Bobby Payne, Prescott Niles
Photo by Richard Noble
NB: You were in two Gregg Allman music videos. What was that like working on the set with the late Gregg Allman?
Yes! "I'm No Angel" and the follow-up "Can't Keep Running." My friend Michael was producing the first one with Jeff Stein directing, and needed some PA's (Production Assistants), and since I needed work, he brought me in to work. Then they needed more "outlaw girls" and I was snagged for that instead of having to make coffee runs and help with driving people to and from! It was a nice upgrade! We were dirtied up and snarled at the camera, chasing Gregg and his group of bandits, and it was so much fun to get to know Gregg and the band and the management! All really GREAT people— kind and generous and fun! Gregg was very shy and of course we gals were "outlaw" gals, so we were a bit overwhelming to him, but he would just smile and laugh with us around. When they decided to do the follow-up to the first video, they continued the story line, and many of the original group of girls were hired again, although some were not available, and we were not as dirty this time. In the second video, I play three different people, get to chase Gregg on horseback and also was able to shoot a Civil War era gun from the balcony of one of the buildings on the old west film location, which was in Vasquez Rocks in Southern California.
NB: What advice would you give to a young female musician who wants to start a band?
CZ: Just DO IT! Round up anyone you can find to try and see who has a similar vision as you do for music and a band. My first band hired me, no money involved, because they "heard" that I had an electric guitar. They didn't know if I could play or not, but I was IN. My first gig was a concert at the high school (I was in Junior High) with my band Blind Rage, and was the only female musician on stage the entire night. The other gal was a singer in one of the bands.
And don't be afraid to go and audition for everything, even if you think you aren't right for it. You may not be right for THAT project, but totally perfect for the next one that the singer/producer/manager is putting together next. Do not pass up any opportunity! I think because I did this, even at times when I embarrassed myself (like auditioning for a funk band…. haha), it put me OUT there for all opportunities, some that I would have never known about had I not tried something different!
NB: What is the best advice someone gave you about the music biz?
CZ: It is probably something that my music attorney, Peter Paterno had told me about getting your songs/music out there. I had a collection of tunes, some recorded, but they weren't PERFECT. And Peter said "JUST GET THEM OUT THERE, because they will NEVER be perfect!" Once they are "perfect" and finally come out, you will find fault with them and they will no longer be "perfect." He mentioned that Toni Childs (from Toni and the Movers and briefly with Berlin, besides her solo career) and I were both "waiting" until the songs were perfect, and that was never going to happen. That is when I started thinking; well, I can release TAPES of my original material, shortly thereafter getting the cut in the Critters film, and have been doing DIY stuff since. Peter was great about helping young artists with decisions and also that push to just go for it!!!!
NB: Can you tell us a little bit about your more recent band Wildflower Moon and how that came about?
CZ: When I was moving to Utah, the original drummer from Backstage Pass and I were in touch and he said, "WHAT? WAIT! I LIVE IN UTAH!" He said he was figuring out how we could work together at some point, and finally when I was here full time (I commuted back and forth to Los Angeles for 3.5 years), we got together and started working as a 4-piece band. Because I was already playing solo, writing and recording my own material, I wanted to also work on originals, but the bass player did not seem to be that interested in learning anything other than what he wanted to play, so I left the band, then he left the band, then Rod asked me if I wanted to be in a trio with he and his wife Iffer, who could play keyboards and keyboard BASS. Voila! We were now a trio. Then came the search for a band name. We are all May babies and the full May moon is the Flower Moon, plus we wanted "Wild" in the name, so we decided on Wildflower Moon. Even though the name sounds like we do folky blue grassy type music, we are really an Americana Rock band.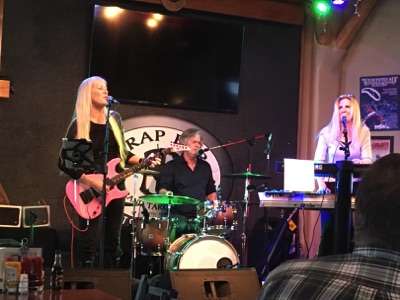 NB: What's next for Che Zuro?
CZ: My CD "Rivers and Rain" was just released in June, and even though people aren't buying much music anymore, I sell quite a few due to playing live full time. Besides continuing to promote that, I am also working right now on booking myself solo as well as the band for this summer's festivals, all while playing a lot of the ski resorts this winter for the ski season—Snowbird, Deer Valley, etc.
Also, since I had removed my music from CD Baby and all of the places associated with them, I am slowly but surely adding everything back into the iTunes and Spotify realm since getting emails from fans all over the world wondering what happened to my music!
My friend and writing Partner, Tisa Adamson and I continue to write songs together, pretty much every time I travel to Southern California, and we hope to record a small album worth of our latest tunes, together, as we played a winery gig last summer which was a huge success! I also just wrote another song that has roots back to my hometown, which will need to be recorded soon!
My book is still in the process of being written, slowly but surely, all about my life growing up regarding music, and little snippets of funny and sad things that have happened while figuring out my place in this world!
Now for the fun questions:
NB: Being from Pittsburgh, who is your favorite all-time Steeler? Pirate? Penguin?
CZ: Haha! You will find that I am pretty old school, except for the last one.
Steeler - Franco Harris (and I love seeing him every time I arrive at Pittsburgh airport!)
Pirate - Roberto Clemente, and yes, I remember when he was killed in the plane crash.
Penguin - Sid.
NB: Can you tell us what this Easy Action was all about?
CZ: I was in college and got a letter (because that is mostly how we corresponded back in the olden days!) from my friend Sandy with a photograph of her with 3 other friends saying that they were waiting for me to come home so the "band" could be complete, a la "Easy Action." We made t-shirts and went to a couple of concerts together, met the bands, etc., yet only a couple of us actually PLAYED music! So funny. We had Bob Gruen take photos of us with the New York Dolls, and other bands wanted to know where we were playing next! "Next!"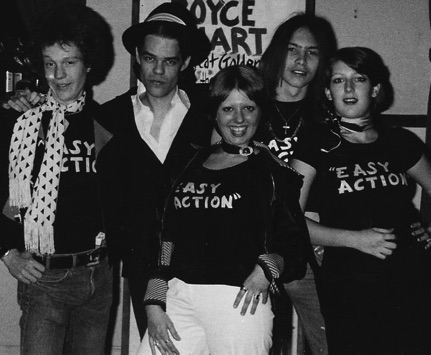 L-R Jim, David J, Sandy, Steven J, Che Zuro
Photo by Bob Gruen
NB: Any stand out, hilarious characters you remember from the Sunset Strip?
CZ: Blackie Dammett, the father of Anthony Kiedis of the Chili Peppers, was ALWAYS at the Rainbow Bar and Grill, walking around with his slicked back hair and usually wearing a suit. Very serious.
Larry Lazer, a crazy guy who was always wearing dolphin shorts and was known to roller skate to the music venues, was a presence on the scene and had a fun party for the Hollywood Christmas Parade every year at his apartment with windows out to Hollywood Boulevard! He also had some music stuff out and was a fun guy in and around the scene!
Tim Hardin, who wrote "If I Were A Carpenter" came to one of the early Orchids gigs, came backstage, was announced and he walked right to the back of the room and started to punch our drummer Laurie Bell. He died of a heroin overdose shortly thereafter.
A guy who convinced us that he was Nicky Hopkins and we let him on stage and discovered that he was NOT Nicky Hopkins, so "Fake Nicky Hopkins." This was at an Orchids gig at the Starwood, probably my favorite venue in Hollywood at the time!
Kim Fowley, of course!
Oh, and some crazy guy, whose name I can't remember, who looked a bit like Todd Rundgren and told everyone that he WAS Todd Rundgren. THAT was crazy.
So many more….
NB: Favorite memory of Swingos?
CZ: Probably getting a room with Sandy, Leucie and Terri the night of the Derringer/Aerosmith show, where we had amps and guitars, cookies from my Mom, and lots to drink, with the door open for anyone to just wander in. That is where I met the famous Nite Bob, who was Aerosmith's FOH (front of house) sound guy, who has remained a forever friend. We also saw Myron Grombacher, the drummer from one of Sandy's and my favorite local area bands, "RMA," now playing with Derringer! And everyone came in to play music and hang out.
Swingos was crazy. In the older days there would be people sleeping in the hallways and in the lobby, and it was wild and fun, but in the later years, it became really tough to even get into the motel because of the stricter policies…maybe too many TVs thrown out of the windows?
NB: Who was the nicest rock star you ever met?
CZ: This is so difficult, but I will give a few names… Ronnie Wood was probably one of THE nicest rock stars I have ever met. He is so generous and kind to everyone. He is an extremely talented guy and is always drawing and painting someone or something. (I met him in the late 70s/early 80s). David Bowie was also kind and a gentleman! The guys in ACDC were all regular guys when I first met them! There are so MANY wonderfully nice and normal rock stars. It almost seems like the ones who don't make it are the ones who have the snotty attitude.