An Interview with Brian Burman
by Nicole Borello
Biography
Brian Burman was born in San Mateo, California in 1958, and grew up in Los Gatos, on the edge of what today is known as Silicon Valley. An avid cartoonist since early childhood, he began official art studies at Humboldt State University in 1979. After attending a few semesters, he realized that the art teachers at the time had no idea what to do with a cartoonist, so he changed his major to film, where he could bring cartoons and puppets to life with animation. At the same time he was studying piano and composition, as well as performing with the school Big Band and several jazz ensembles. As he was in no hurry to graduate, he also managed a minor in Philosophy.
Temporarily interrupting his formal education, in 1982 he moved to Santa Cruz to start a Rock/Jazz Fusion band with friends, and began composing classical chamber music. His first chamber works were performed with the Santa Cruz New Music Works in 1983. In 1984 he decided to continue his film studies at San Francisco State University, and completed a BA in Film Production, with an emphasis on animation. After working for some months at the renowned animation studio Colossal Pictures, he found the professional animation world rather insular, and well, nerdy. He realized that his friends doing live action film work were much more open and interested in politics and the world in general, and so enrolled in the film masters program at SF State.
At this time he was living in a warehouse in downtown San Francisco with a group of nine other artists, where they established an underground artist's space known as Merry the Dog. Here they built a theatre/gallery/cinema, where Burman curated events which mixed art exhibitions with performance art, theatre, dance, music performance and film programs. When the earthquake of 1989 damaged the building at 2nd and Market Streets, they were given 24 hours to move out, and Burman lost the workspace he needed to work on animation. This fateful event moved him to abandon animation and focus entirely on live action films. He had always composed the music for his own films, and other film students began asking him to compose for theirs as well. It became clear that film was the place to unite his passions for visual art and music, with editing as the key to the synthesis.
Upon completion of his Masters in Film Production in 1994, Burman emigrated to Switzerland. After a year toiling in a low budget video studio, he was hired by the state sponsored Swiss Television SRF, where he is employed to this day. He is mostly editing documentaries and reports on art, music and culture in general, writing online articles and making video reports on film history, as well as composing music for documentaries. Alongside his work at television, he freelances as a video director, with such varied employers as the Rose d'Or television festival, the Catholic Church of Kanton Zug (making video portraits of art objects and historical relics), and election spots for the Green Party. He has continued composing music for theatre and dance performances, as well as classical music for concert performance. His works have been performed in the Luxembourg Philharmonic, the Saskatoon Symphony (Canada), the Mainz Ballet, the Düsseldorfer Schauspielhaus (Germany), and many theatres in Switzerland.
Selected works:
Music for Film, Video, Concert & Theatre (Selection):
2019:
"The Winter's Tale", for Woodwind Quintet, performed by members of the Saskatoon Symphony Orchestra
2018:
"Johannes Itten – Bauhaus Pioneer", Documentary for Swiss Television (Marina Rumjanzewa)
2017:
"L'amour en guerre", for SATB Choir and Video-Projections (performed by the Ars Canora, in the Paulus Kirche, Zürich, Music and Video by Brian Burman, two poems by Paul Eluard)
"Alles für die Kunst", Documentary for Swiss Television (Uta Kenter)
2015:
"The Dada Principle", Documentary for Swiss Television (Marina Rumjanzewa)
"The Red Music Box", Music for Theatre (Seraina Sievi), performed by the ensemble ArteMandoline, Luxembourger Philharmonie
2014:
"Tsunami", Documentary for Swiss Television (Basil Gelpke)
"Till Eulenspiegel", Music dramaturgy for Luxembourger Philharmonie (Seraina Sievi)
"God, Guns and Gadgets", Theater-Komödie, Santa Cruz Fringe Festival (Dangerous Neighbors)
2012-2013:
"Cinemasuisse", Television Series, Portraits of Swiss Filmmakers
2012:
"Mensch 2.0 – Die Evolution in unserer Hand", Cinema Documentary (Alexander Kluge and Basil Gelpke)
2011:
"Alice", Theatre Piece, Theater Chur (Seraina Sievi)
2010:
"Bali – Sacred and Secret" Cinema Documentary (Basil Gelpke)
2007-2008:
"DESIGNsuisse" Television Series, Portraits of Swiss Designers
2002:
"The Platform" (Joachim Schlömer)
"Go Behind" Modern Dance Piece, Theater Gesnerallee (Gisela Rocha)
"Janeiro" Modern Dance Piece, Ballet Mainz, Germany, (Gisela Rocha)
2001: "Launischer Sommer" " Music for Theatre, Düsseldorfer Schauspielhaus (Igor Bauersima)
1994:
"Terminal U.S.A." Feature Film for American Television, PBS (John Moritsugu)
https://store.cdbaby.com/Artist/BrianBurman
https://open.spotify.com/artist/2ADWnQO9Dl4EkgXjmBbeiF
https://brianburman.bandcamp.com/
https://soundcloud.com/brian-burman
Bahia film link on youtube:
https://www.youtube.com/watch?v=Rj4lhVx7GEI
Brian's band, State of Siege in the early 1980s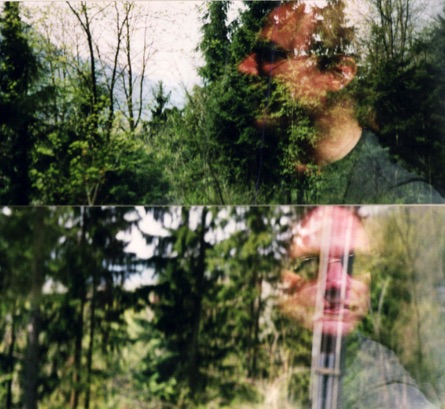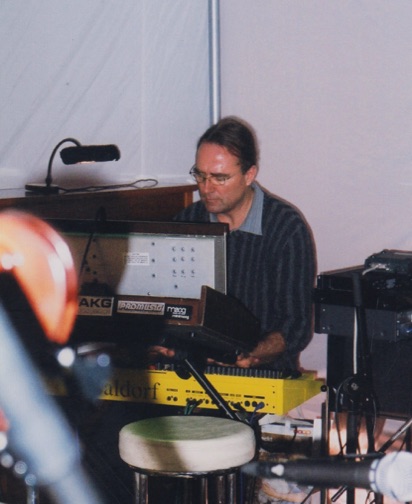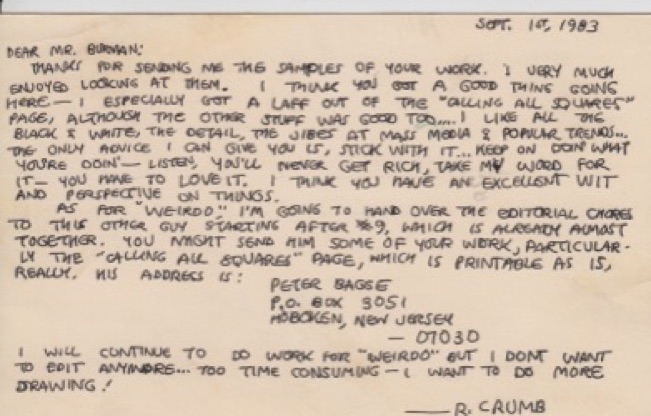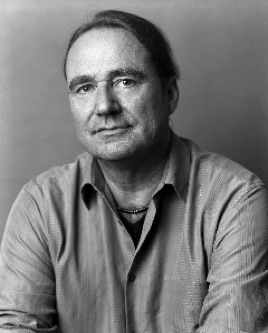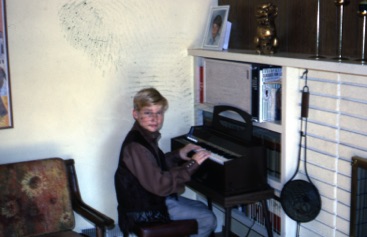 Brian's early start in the music business.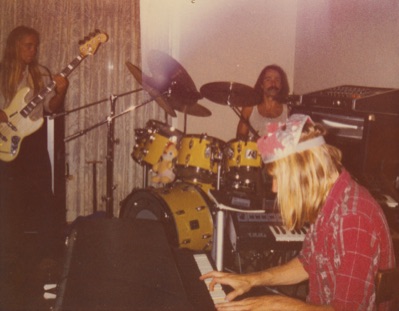 Brian at the Theater Neumarkt in Zürich, Switzerland
What role do you think creative artists play in today's society?
Actually, artists have many different roles in society. There's this ideal of "l'art pour l'art", but if you're not supported by a king or millionaire while painting away in a garret, you'll have to have some contact with society. Which means acquiring funding for what you want to do, and that entails either contributing to some art, music or entertainment form that many want to consume, or selling your very personal work somehow on the art, music or literature market, where it will also have to be promoted. I think there is a huge number of people active in creative work, who don't necessarily consider themselves artists, but who are doing incredible artistic work on projects that have the ultimately commercial aim of earning millions. I see a lot of animated films for children with my daughter, and sometimes I'm knocked out by the artistic brilliance of a certain visual style, or even some of the writing or music. That flash of brilliance is subsumed in a film that maybe on the whole is cliché and predictable, and nobody even knows who contributed what, but nevertheless, there was an artist doing their best to create something original that seeps through the filters of corporate interests and expectations of a mass audience, even if they're just a more or less anonymous member of an enormous team.
Another question is whether the artist has an obligation to society, a duty to try to enlighten or educate, be it political, educational or philosophical. I often think of Frank Zappa's statement that the only duty of the artist is to amuse his or herself, even though his work was itself a contradiction of that maxim. I think it depends on the personal bent of the artist, if they are trying to convey a political message, an impulse towards personal discovery, truths about human relationships, or just examining the absurdity of social existence. Working in the fields of visual art and music and studying their history, I can see where art, cinema and music have influenced and shaped the way we see and hear, in ways that can alter perception itself. As an example, the writings of the French philosopher Henri Bergson on memory and the perception of time (a subject on which I wrote my Masters' Thesis) had a great influence on European filmmakers of the 60s and 70s, notably Resnais, Fellini, and Bergman. These directors all created works which examine memory and experience of time on a deeply psychological level, which can lead the viewer to new insights into how they experience time and memory in their own lives. Cinema can have such an effect that it actually expands consciousness and perception. Even if these phenomena have no immediate social or practical use, they can have an influence on human perception itself, and as human consciousness is constantly evolving, art can in this way have a direct effect on further development of the brain and our understanding of what it means to be human.
What type of art do you most identify with?
It's hard to pick one style or movement, as I try to be open to anything that resonates with or moves me. But I can't deny that the greatest inspiration (in visual art at least) comes from the period between the two World Wars, the style of which mostly falls under the concept of modernism. This includes ideas such as; the debunking of "beauty" and "harmony" as the only criteria for judging art; the acceptance of disorder and chaos as elements of the world we live in, therefore as essential elements of art; the realization that industry, commerce and mass production are dominating forces in our lives, and therefore should be reflected in art; and the attempt to bring art out of the ivory tower world of museums and conservatories and into every day life. There is a lot of postmodern work that I admire, but a lot of it gives the impression of intellectual masturbation as well. I find that one important aspect of that development is the breaking down of the hierarchy between so-called "high art" and entertainment, that great art can be created with elements of both. But to be honest, when walking through the MOMA for example, I'm totally thrilled by most of the work from the turn of the 20th Century until the end of WWII, and after that find myself increasingly disinterested as it becomes more abstract and conceptual. Some level of technique and workmanship still seems very important to me, as opposed to someone just having a clever idea that entails little work to realize.
How do you think music has changed overtime? Do you think it is for better or worse?
"Music" is too broad a category to make sweeping generalizations. And it has always been difficult to assess what is happening in contemporary music in relation to its place in history. One need only read the devastating reviews that Beethoven or Stravinsky received in their day to realize that the public needs time, often years to catch up to musical developments. But as far as Pop music goes, it's easy to see that it doesn't have the same importance as a factor in social life as it did in say, the sixties or seventies. When you take only one example, Bob Dylan and the importance his songs had in the Civil Rights and anti-war movements…well, there's nothing remotely comparable in Pop or Rock today. Lots of people would say Hip Hop has a political aspect, and surely it does, but does it really inspire social change? Or is it a safety valve for people to let off steam and act out their rebellion, much like Punk or Death Rock, where the pose of the rebel is more important than actually affecting social change?
But if the question is just about the quality of music, staying with the Pop and Rock examples, many studies have shown that the range of chord changes, melodies, rhythms have actually become much more narrow over the decades. That means there is less variation and trying out new things, and more repetition of successful commercial formulas. And I've read that something like 85% of Pop music on the radio is written by three guys in Sweden, who have supposedly discovered the magic formula for hit songs, determining their beats, chord changes and lyrical content. So whether it's Beyoncé, Taylor Swift or Arianne Grande, you're getting zero creative self-expression from those people, and mostly them rehashing the vapid formulas of these three stink-rich Swedish Pop-Gurus. And if we agree that music should be largely about creativity and self-expression, how can it be more empty and vapid than what comes from this sterile hit factory? But that's not to say that people should not enjoy it. Every generation has to have their own songs to identify with and help them through their teenage crises, and trying to tell them otherwise just makes you a boring, nostalgic old fuddy-duddy, as they'll find out some day when they think their kids are listening to garbage (I mean just plain garbage, not the band Garbage).
But on the fringes, there is a lot of exciting experimentation going on in Electronic music, Jazz, even Hip Hop. The fact that nearly anyone can create great sounding music on their home computer means that interesting artists can get exposure without having to go through a corporate record label that would discourage innovation and experimentation. And in Film Music, the possibilities opened up by mixing electronic music with classical orchestras have led to fascinating developments. So it's not all gloom and doom.
Who is your favorite creative artist and why?
The musical artist who has had the most influence for me personally is Frank Zappa. When I was quite young and considering which creative path or paths to follow, he made it clear that the classical music world, which can often seem quite stuffy and overly serious, can also be a setting where absurdity, anarchy and fun can take place. He answered the question, "Is humor allowed in music?" with an emphatic, "Hell, yes!" Which made my desire to compose "classical" music a much less intimidating and more attractive prospect. That said, I realize that Zappa's work was never intended for mass popularity.
For an artist that has universal appeal and speaks directly to the heart, I'd go with Charlie Chaplin. His brilliant films functioned not only as pure entertainment, they also stand on the highest level of art. As silent films have no language barrier, his were clearly understood by everyone and had a huge emotional impact in nearly every country in the world. Chaplin's work also had a subtle anti-authoritarian, anarchistic aspect, as well as a socialistic subtext that was subversive enough to get him banned in Nazi Germany and deported from the USA. He was a great humanist artist, the kind that appears maybe once in a century.
You live in Switzerland, how is the music scene there compared to America? How do they view American music?
The classical music scene here is fairly well supported and lively. Jazz is pretty much neglected, as there are very few places for younger players to go and learn their chops with experienced players. The same with Rock music; for bands to develop, they need venues that hire live music, or at least places where people can get together and jam. I know of only one bar in Zürich that has an open jam session once a week. That combined with the fact that techno has dominated the music of the youth here since the 80s (with Hip Hop now just as prominent) means many younger people don't really experience much real live music. Techno DJs are sold as superstars and receive huge paychecks for clicking other people's music on their laptops and looking cool while acting like they're actually doing something, but most younger people wouldn't know or care how to judge how good someone can play an instrument. That's not true in all of Europe, Sweden for example has a very active live music scene. The standards are very high and young people even flock to jazz shows. But there needs to be some kind of infrastructure and support in order for a real scene to develop. There are a lot of live festivals in the Summer that are very popular, but I see that more as an exception, and not really constituting a "music scene," as only established acts can play at those festivals. There needs to be places where musicians can learn and develop.
American music is of course very popular here, to the point where it pretty much determines the styles of Swiss Pop and Rock. I'd be hard pressed to identify any aspects of Swiss rock that essentially differ from American or English rock, aside from the fact that it's being sung in Swiss German dialect (or French or Italian). There have been some exceptions: The Young Gods and Yello had a huge influence internationally on Techno, Rock and New Wave in the 80s, and there are and have been some very original bands known only in Switzerland, such as Stiller Has, Polo Hofer (R.I.P.) and Lunik. In the Jazz field, Nik Bärtsch has created a very Swiss, very exacting form of jazz that is as precise and controlled as a Swiss watch, and Sylvie Courvoisier has been very active in composing and improvising (on piano) innovative avant-garde Jazz around the world.
What is the best advice someone ever gave you in regards to your career?
Offhand I can think of two examples. In my earlier years, I was an avid cartoonist, came very under the influence of the underground comics from the 60s, such as Zap Comix, which featured art by comic geniuses like R. Crumb and Robert Williams. I had been drawing my own comics in the 80s, and submitted some to Robert Crumb, who had been the founder and editor of Weirdo Comix. I was thrilled when he wrote back, and he really liked my stuff and advised me to stick with it. But something else he wrote stuck with me even more: "You'll never get rich, take my word for it – you have to love it!". He had just abdicated his editorial duties at Weirdo to a less gifted cartoonist named Peter Bagge. If he had published my work, my life may have taken another direction, but he didn't, so I ended up leaning more towards film and music.
The second advise that stayed with me came shortly after I'd moved to Switzerland, with the decision to devote myself more to composing. I got in contact with the great Swiss composer Rudolf Kelterborn, who at the time was director of the Conservatory in Basel. He was gracious enough to meet with me (a totally unknown quantity in Switzerland at the time), listen to tapes of my music and look at some scores. He counseled me that I shouldn't worry about making a mark in the official Classical music world, as there is a wide world of music that exists between genres, and that what I was doing was working very well by crossing those boundaries. That really struck a chord with me, as the crossing over and mixing of genres is what has always fascinated me: where Classical meets Rock or Jazz, Jazz-Rock, Middle Eastern with Jazz influences, Brazilian music mixed with Drum 'n Bass, etc. And as someone who is working in film music, I am constantly mixing genres and styles all the time, so that's the world where I continue to live.
What was the most exciting project you worked on?
I would say, just for the sheer life excitement of it, the film project where I researched the music of Bali in preparation for composing a soundtrack for the film, "Bali: Sacred and Secret" (2010, Basil Gelpke). I spent a month there, mostly in Ubud, discovering a musical world that was entirely foreign to my Western ears. I searched for local musicians, and was lucky to be introduced to some musical legends by friends who have been living there 30 years. Others I found by chance, for instance a member of a Bamboo Gamelan orchestra I was searching for turned out to be driving a taxi I took one night. I organized recording sessions with these musicians, and attended spectacular religious rituals which were not open to tourists, some of which lasted all night with veritable fireworks of mind blowing ceremonial music from outstanding ensembles. I wrote a blog about the experience, which can be read here:
http://www.generalrubric.com/bburman/bali_journal/
Text